Efficient Healthcare Lighting from Gerard Lighting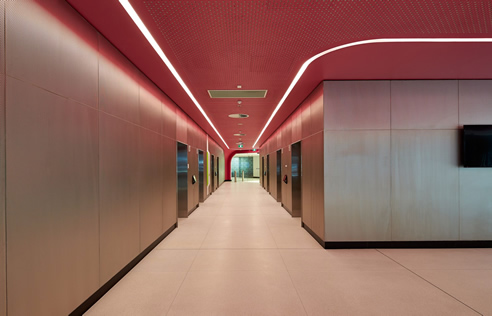 Premium lighting brand takes centre stage in the new Victorian Comprehensive Cancer Centre
From the smooth sculptural curves and organic white lines branching across the building exterior to the sparkling glass facade and award-winning architecture - the spectacular Victorian Comprehensive Cancer Centre (VCCC) bears striking similarities to a world-class modern art museum.
Designed by Silver Thomas Hanley, DesignInc and McBride Charles Ryan and located in Melbourne's Parkville Biomedical Precinct, the state-of-the-art facility is the first comprehensive cancer centre in Australia and represents a collaboration that aims to save lives through the integration of cancer research, education and patient care to create a leading centre of excellence.
The $1 billion purpose-built VCCC was designed to maximise functionality and sustainability, all whilst boasting cutting-edge design and technology to reflect the superior minds working within the centre.