Polished Moving Wall from Unitex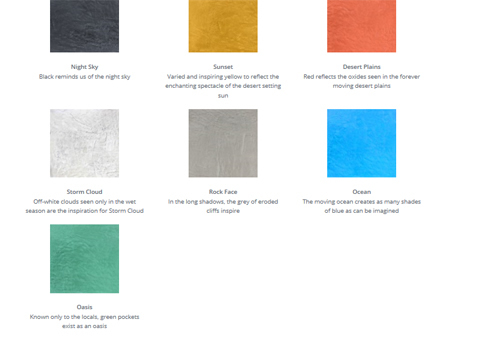 The Tanami by Unitex is a high quality product that gives the appearance of a polished plaster 'moving' wall.
In a tribute to the Australian Indigenous people, this product is named after one of the most important land masses to the Aboriginal people, as 10,000,000 hectares (25,000,000 acres) of the Tanami Desert area (38% of the total bioregion) was declared an Indigenous protected area. It is also the Northern Territory's "final frontier" as it was not even explored until well into the 20th century. This highlights the rugged, unknown, exciting, moving, uniquely Australian nature of the product - uniquely Australian and so uniquely Unitex®.
Inspired by the Tanami Desert in Northern Australia, an Indigenous protected area known as Kukatja and Walpiri country, Unitex® Tanami gives the feeling of the arid, constantly changing, and beautifully imperfect Australian desert.
Unitex® Tanami is available in a standard range of shades based on the natural features of the Tanami Desert.