PE ACP Panels Ban and Building NSW with Fairview Architectural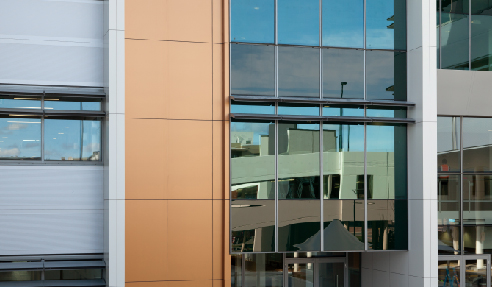 How the Recent Ban on PE ACP Panels Changes the Façade of the Building and Construction Industry in NSW?
The recent announcement by the NSW Fair Trading's Commissioner, Rose Webb, prohibiting the use of some variants of combustible aluminium composite panels (ACPs) on certain building types leave industry specifiers questioning its impact on the building and construction industry.
Fairview Architectural have set out a Frequently Asked Questions (FAQs) as a simple guide regarding the issue. If you still have unanswered questions at the end of the article, we would be more than happy to answer them for you. We have included the link here for your additional questions.
Fairview Architectural is in full support of this ban, and we find it a well-reasoned and good initiative by the NSW Government to ensure safer buildings and to restore the confidence and trust of the public, as well as industry specifiers.
What States and Territories does this Ban Apply to?
This ban applies in NSW only since the clause and restrictions of the ban differ as it is imposed by other Australian Regulators in Victoria, Tasmania, South Australia, and New South Wales.
Fairview Architectural's technical team have extensively reviewed the notice issued by Fair Trading and share below their summary and views of what this means for the construction industry in NSW and for ACP products in general.
What Products does this Ban Apply to?
The NSW ban specifically prohibits the use of Aluminium Composite Panels (ACPs) with a core comprised of greater than 30% polyethylene (PE) by mass. This type of panels is not to be used on any external wall, cladding, façade, as well as on building types A & B (as defined in the Building Code of Australia).
Are there any Exemptions from the Ban?
Yes, there are two exemptions from this ban:
The building product is not deemed combustible (non-combustible) when tested to AS1530.1.
The building product achieves a complete pass tested to the recently introduced AS5113 large-scale fire propagation and classification test for external walls of buildings. (Note: The wall and cladding must be constructed and installed in a manner identical to the tested prototype)
Furthermore, the testing of the above must be done by a NATA approved lab and has to be completed on or after 1 July 2017.
What ACP's does this Ban not Apply to?
This ban does not apply to products that:
Contain 30% or less combustible polyethylene.
Panels are not deemed combustible when tested to AS1530.1 (by NATA approved lab after 1/7/17).
Successfully passes all classifications as per AS 5113 (by a NATA approved lab after 1/7/17), when installed on and becomes part of an external wall assembly.
If my ACP is not Affected by this ban, is it Compliant?
No, a product exempted or not affected by this ban is not automatically deemed compliant. These products must still demonstrate compliance with the Building Code of Australia (BCA)
Note: Most solid core ACPs contain combustible content in the core. Even if this is less than 30%, it is likely they do not comply for use on type A & B buildings when tested in accordance with the BCA.
When does the Ban Take Effect?
The ban commenced on 15 August 2018 and remains in force until it is revoked.
Why was the Ban Introduced?
Fair Trading has based their decision to implement the prohibition on the following reasons:
PE core ACPs on type A & B construction pose a high fire safety risk due to combustibility.
In particular, ACPs with more than 30% PE core products pose a safety risk that contravenes the BCA.
The National Code of Construction is not currently sufficient to address these safety risks.
What does this mean for Vitrabond FR and its Competitors?
Most reputable ACPs such as Vitrabond FR contain 30% or less PE (combustible content) in the core. This means that these products are not forbidden, however, it also does not mean that they are compliant. These products still need stringent testing to demonstrate compliance or accordance with the BCA.
Vitrabonds' FR core has been independently tested by the CSIRO to verify the percentage of PE. The CSIRO report confirms that the Vitrabond FR core contains 24.5% PE. Vitrabond FR is therefore not affected by this ban.
For more information and clarification, visit www.fv.com.au.