New Prefinished Cladding Innovation Team at Fairview Architectural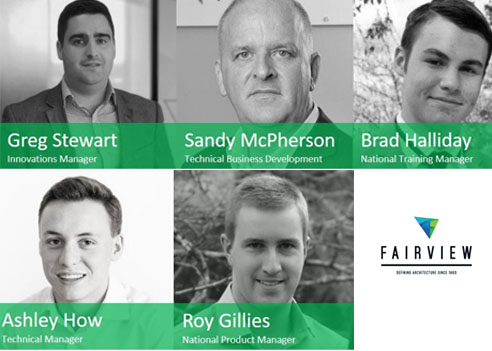 Fairview Architectural is proud to introduce the new Innovation Team headed by Greg Stewart.
The Innovation Team is created to drive and maintain Fairview Architectural's strong position as an educator and a thought leader that seeks to improve the safety, performance, and appearance of architectural buildings within the Australian construction industry.
One of the major tasks of the Innovation Team is to examine the issues relating to compliance and regulatory change as well as the management, testing and development of new products to ensure Fairview's product portfolio remains at the forefront of the market. The Company is recognised for delivering safe and aesthetically pleasing façade solutions to the industry, including the revolutionary deemed-to-satisfy, non-combustible aluminium panel, Vitracore G2 and the fully non-combustible 3mm solid aluminium solution, Vitradual.
Meet the Fairview Innovation Team industry experts:
Greg Stewart, Innovation Manager - Greg is a long-standing member of the Fairview team. He was instrumental in the development of Fairview's deemed to satisfy aluminium cladding product that has been a market leader since its launch in 2015. Greg also played a major role in the acquisition of the 100% non-combustible intelligent cladding system, Stryum, for the Company last year;
Sandy McPherson, Technical Business Development - Sandy worked as the National Product Manager at CSR Hebel and was recruited by Fairview earlier this year;
Ashley How, Technical Manager - Ashley is Fairview's well-known and highly experienced technical manager. He is an integral part of the team and responsible for addressing non-standard applications. He also provided customised solutions to our customers with knowledge gained through ongoing product research and development;
Bradley Halliday, National Training Manager - Prior to joining Fairview, Brad previously held the position of Business Development Manager in Victoria. He is now responsible for delivering the SafeClad training programs as well as other relevant training to Fairview customers;
Roy Gillies, National Product Manager - Roy is Fairview's former Queensland Business Development Manager. He excels at understanding client needs and consistently leads the company's successful delivery of innovative façade systems.
Get to know more of Fairview Architectural's new innovation team by visiting www.fv.com.au.