Gerard Lighting Floodlight Wins 2017 IES Award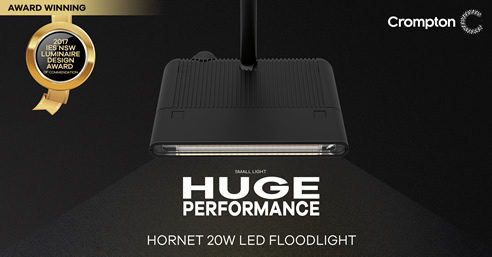 Crompton Hornet Floodlight awarded the 2017 IES NSW Luminaire Design Award of Commendation
Sydney, November 2017 - The latest innovation setting a new standard in home floodlighting, the Crompton Hornet 20W LED Floodlight, has been awarded the 2017 IES NSW Luminaire Design Award of Commendation.
The IES Award represents the NSW Chapter's quality in the design and manufacture of luminaires within NSW.
"We are proud to have been presented with this award as it recognises the vision that Gerard Lighting and its team have, in understanding and indentifying the future market requirements of LED lighting in this space," says Ben Mills, General Manager, Gerard Lighting.