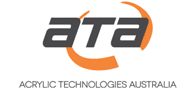 Company Profile
ATA is a leading manufacturer and supplier of Adhesives and Accessories for the Australian Plastic Fabricators and Shop Fitting Industry. Our brand name ACRI-BOND and its bright labels have been broadly accepted by Plastics Fabrications Industry specialists since 1999.

With product brands such as Acrifix, Brillianize, Xerapol and new formulas of UV cured Adhesives, Two Parts Acrylic, Pressure Sensitive and Contact Spray Adhesives and MS Polymers we created our boutique offer to the Australian trade and the public.

Working closely with our major distributors such as Australian Sheet Traders, Pacific West Corporation, Award Plastics in NZ, SignBiz in Fiji, we pay particular attention to the convenience of use and safety of handling which has earned us recognition within the industry.
Acrylic Technologies Australia
02 9674 3005
Unit 4, 128 Station Road, Seven Hills, NSW, 2147
Spec-Net Shop for Acrylic Technologies Australia
* If you would like to update the text on your profile page, please contact Spec-Net.