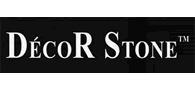 Company Profile
DecoR Stone is the leading supplier of decorative stone products in Australia. Our major product lines include Stacked Stone, Ledge Stone, Crazy Paving, Ardesia and the new, and exciting, Dry Stone Modular Wall Panelling. With over 300 resellers nationwide there's sure to be a DecoR Stone supplier near you. Our VIC, NSW and QLD warehouses ensure stock availability as we are able to transfer stock between these warehouses.

Stacked Stone exudes a modern style with its three-dimensional feel and broad colour range – 14 colours available, allowing you to transform your outdoor areas by accentuating retaining walls, creating pillars and water features.
- Pre formed right angled corner profiles eliminate time consuming mitre cutting. Available in all colours.

Ledge Stone comprises of individually cut pieces of natural stone set into a concrete base, providing individuality and character to your home. Ledge Stone captures the appeal of old world charm with our modern innovations making installation easy.
- Corner pieces are available in both short and long corners, creating a naturally seamless look.

Crazy Paving consists of shaped slate pieces adhered to a mesh background, each tile interlocks with the others to create a seamless decorative finish. Tetris Paving is slate in the same colour as Crazy Paving yet a more uniformed look.

Ardesia is a modern natural stone cladding that is perfect for Retaining Walls, pillars and water features for both external and internal applications.

Dry Stone Modular Wall Panelling is the newest in the DecoR Stone range and provides a product with the look of dry stone walling yet without the time-consuming effort or the need for any specialised artisan to apply.
Decor Stone
03 9888 9888
84-90 Highbury Road, Burwood, VIC, 3125
Spec-Net Shop for The Pebble Mix Company Pty Ltd - Decor Stone
* If you would like to update the text on your profile page, please contact Spec-Net.