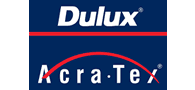 Company Profile
Dulux AcraTex coatings and system solutions are designed with the Australian built environment in mind. From large-scale commercial projects, to the preservation of heritage sites and the beautification of our most valuable asset, the family home; Dulux AcraTex plays a significant part in the construction of our country with solutions that add style, rejuvenate character and extend the life of any build or renovation, big or small; residential or commercial.

Dulux AcraTex's total facade solutions and unique interior styles provide a distinctive look in all environments. Our portfolio of products is the most technically advanced and is backed by over 45 years of quality & service.

Dulux AcraTex brings your design vision to life and delivers what your project deserves; protection, durability and style.
Dulux AcraTex
13 23 77
Call for address
* If you would like to update the text on your profile page, please contact Spec-Net.