Acrylic texture coatings from Dulux Acratex for cement render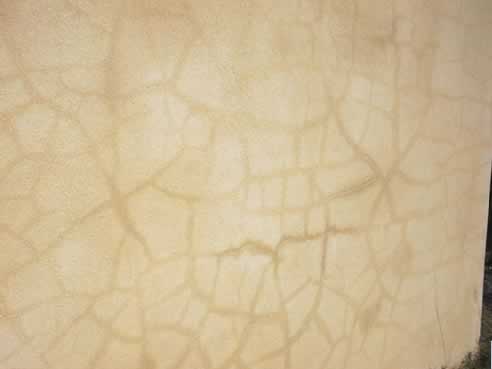 Selecting the "right" acrylic texture coating for cement render
Generally Builders and Project decision makers are willing to trust that cement based renders painted with conventional decorative paint will give long lasting protection for years. The fact is that the combinations of cement render with decorative paints only deliver a short-term decorative solution, which quickly begins to crack and deteriorate thus losing its aesthetic appeal to building owners.
Why does a cement render coated with a conventional paint system crack?
Traditionally "cement render" means site mixed sand and cement (bulk materials mixed on site) but increasingly these days includes various supplier pre-packed bagged cement renders. Some suppliers and/or builders and/or applicators may support cement renders as finishing systems in their own right for reasons of their own (generally economics). Some add a layer of confusion with terms like "Acrylic Render" - referring to very small amounts of acrylic sometimes added to pre-packaged cement renders as additives, which assist application and curing only.
Pre-packaged bagged supplied cement renders offer some advantages over site mixed render in terms of easy handling and product consistency of mix formula (ie. vs uncontrolled site mixed render), but essentially they are still low cost, bulk sand & cement products primarily designed for use as a surface leveling building materials.
Neither a site mixed render nor a pre-packed render are acrylic, nor are they waterproof, nor flexible in any shape or form and both types are prone to cracking over time. All sand cement renders once cured form part of the initial building substrate then a finishing coating system is applied for decorative and protective purposes.
The initial visual look of painted sponge finish render look is very similar to the most widely specified and used Acrylic Texture "Sand Finish" style desired of today's contemporary architecture but that's where the similarities end with a significant performance gap between two types of systems.
Cracking process?
The simple answer to this is, all renders irrespective of how they are formulated will eventually develop surface cracks (such is the nature of cement curing and hardening). Sand and Cement renders are highly alkaline, rigid and brittle surfaces that develop surface cracks through cement shrinkage and thermal expansion & contraction from daily temperature fluctuation.
Decorative conventional paints are a low film build, this technology is not formulated to withstand the stresses caused by thermal expansion and contraction of cement based rigid substrates. It forces the paint film to crack due to insufficient film build, lack of flexibility (elongation) leading to poor crack bridging to withstand the substrate dynamics. These cracks over time will continue to expand & contract and become a gateway to water, corrosive and atmospheric pollutant attack potentially leading to delamination and/or 'drumminess'.
How do you select the correct coating?
When selecting a finishing system for cement rendered substrates there are two factors that need to be considered.
Performance relevant to building location (environment).
The coating must satisfy aesthetically to deliver a finish that best suits owner and the building aesthetic type, accommodate the substrate's daily dynamic stresses caused by temperature and climate changes, protect from atmospheric pollutants, salt air, water ingress, dirt accumulation and carbon dioxide.
Option 1: High build, flexible acrylic texture coating systems (where the main binder is acrylic resin, not cement) and the aggregates / sands are of a much higher quality than those used in cement renders. Supplied ready to use in 15L pails with colour incorporated throughout, in a range of aesthetic styles from trowel, spray and roller applied "sand finish" contemporary looks to feature texture finishes. Cement Renders are still used as the base-levelling coat and Acrylic Texture Systems then are applied as a finished coat for protection and style.
Option 2: When a semi smooth paint look is required then a mid build elastomeric coating would be suitable. These are 100% acrylic seamless non-aggregate pigmented coatings applied by normal roller. Formulated specifically to give flexibility & elongation performance to accommodate substrate daily dynamic stresses and protect from atmospheric pollutants, salt air, water ingress, dirt accumulation & carbon dioxide substrate.
Perfect Finish & Coating Performance with Dulux Acre-Tex Texture Coating Systems
Dulux AcraTex is a manufacturer and market leader of both texture coatings and elastomeric coatings and has provided coating solutions to all types of building substrates including cement based renders for 3 decades across Australia, New Zealand and Asia.
Dulux Acra-Tex Acrylic Texture Coatings; These are 100% acrylic ready to use products and the most popular finishes among residential builders & homeowners. These are easy to apply flexible full acrylic texture coating system that can accommodate cement render daily stresses caused by expansion and contraction from temperature changes. Acra-Tex Acrylic Texture coatings protect against alkali attack and won't shrink or crack over rendered substrates. These finishes deliver the most uniform, even finish to ensure complete mortar joint blockout and when top coated with 955 Acrashield mid build elastomeric topcoat provide ultimate protection from atmospheric pollutants, salt air, water ingress, dirt accumulation & carbon dioxide substrate and deliver colour accuracy.
Finishes such as our new 951 Trowel-On range offer a fine to medium sand finish style available across the range of Dulux exterior colours.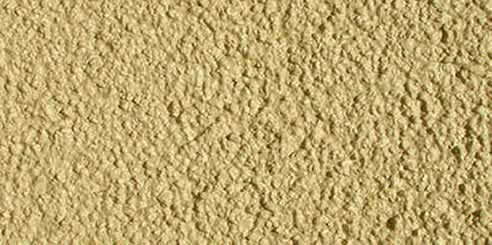 High Build Acrylic Texture - Sand Finish Style.
Dulux Acra-Tex Elastomeric Coatings; These are engineered with 100% acrylic binders to cope with cement based substrates dynamics and provide ultimate protection against all types of environmental & climatic conditions. They deliver a semi smooth paint look in a "highly flexible protective seamless coating layer" with cross-linking & crack bridging technology and surface integrity that protects the building substrate from water ingress, carbon dioxide, chemical and alkali attack.
These coatings remain as a seamless film that can withstand daily stresses caused by temperature changes and maintain itself for a long-term protection for use on both new and aged weathered renders. Colours are available from 'Dulux Specifier' colours.
The range is offered in three categories ranging from 955 Acrashield, 968 Elastomeric 201 and 953 Membrane, based on dry film build and performance across different application purposes and come with independent 3rd part testing results and conforming to AS Australian Standards AS4548.2 (long life coatings for masonry surfaces).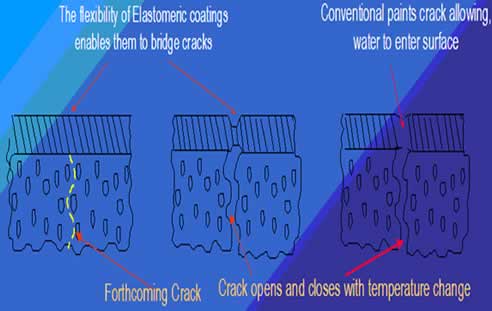 Dulux Acra-Tex elastomeric coatings.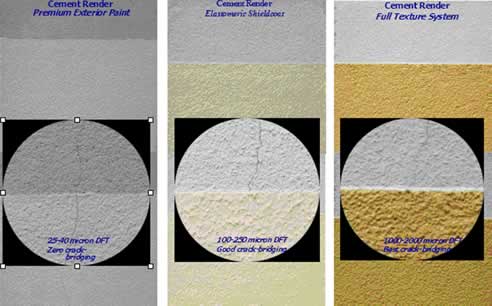 Rigid Masonry requires crack-bridging resistance.