Solar Reflective Roof Membrane Cool Roof by Dulux Acratex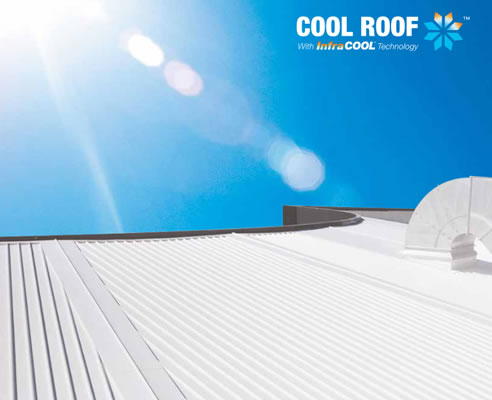 Cool Roof with InfraCOOL® Technology
The built environment includes large areas of roof surface which can absorb the Sun's radiation to act as solar radiators.
It makes sense to design a barrier that combats the specific Heat Source, and that means reflecting the Sun's rays BEFORE they're absorbed as heat.
By reflecting more of the Sun's radiation, Dulux Cool Roof™ with InfraCOOL® Technology can keep surfaces cooler to help reduce heat build up in roof spaces that can filter into living zones.
The extent to which InfraCOOL® may translate to internal benefits in warm conditions will depend on variables such as colour choice, building design (including roof pitch, materials & window placement), insulation, ventilation, occupancy use, shading, location, climate and ratio of exposed roof area to floor area. Colour choice can still make a difference. Cool Roof White and Pastel shades are the coolest choice overall.