Feast Watson® Decking Oil - Protect today, enjoy tomorrow!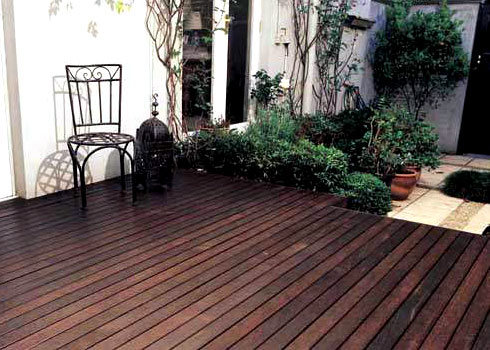 Rejuvenating your timber deck is now less time-consuming thanks to Feast Watson®'s newly formulated Decking Oil.
With a one-hour re-coat time and an 18-hour drying time you could be oiling the deck on Saturday and enjoying it by Sunday. Previously both the recoat and drying times were 24 hours, meaning a whole weekend's work.
Feast Watson® Decking Oil is a long-lasting premium oil which enhances the natural beauty of your deck. Its semi-transparent finish does not hide the timber grain.
Oiling your deck is important to protect it from the destructive effects of sun, water, mould and fungi, all of which can decrease the longevity and the beauty of your outdoor room.
With summer almost upon us, now is the perfect time to apply the oil to prevent cracking and splitting of the deck during the hot months ahead. Feast Watson® Decking Oil penetrates deeply and nourishes the timber. Think of it as a re-hydrating drink for your deck to quench its thirst!
What's more, Feast Watson® Decking Oil weathers naturally so there will be no peeling or cracking problems once applied.

The newly formulated Decking Oil still provides the same quality and durability you would expect from Feast Watson®, the woodcare specialists. The superior durability is attributed to the resin blend and the UV, water, fungi and mould resistant properties.

Feast Watson® Decking Oil comes in eight colours; Natural, Treated Pine, Jarrah, Merbau, Oregon, Walnut, Red Cedar and Cypress, so no matter which species of wood or look you are going for, Feast WatsonŽ has the right oil for the job.

Feast Watson® Decking Oil is available in 1, 4 and 10 litres and is stocked in all major hardware and paint specialist stores. Look out for the striking new black can in store.

Feast Watson® also has a range of 16 Decking Stains that add colour to timber allowing you to create the desired style and mood for your outdoor living space whilst still providing a protective, nourishing finish.

Cleaning and Application
All decking should be cleaned with Feast Watson® Woodclean and allowed to thoroughly dry before application of Feast Watson® Decking Oil. Woodclean can be safely used on existing oiled or stained timber.
Feast Watson® Woodclean scours and dislodges stubborn stains and grime and assists in the removal of oils, mould, mildew and tannins from the timber surface in preparation for coating.
Woodclean is also ideal for rejuvenating grey timber, just clean with Woodclean, rinse well and then when thoroughly dry, protect it from the elements with Feast Watson® Decking Oil.
When applying Feast Watson® Decking Oil to existing oiled or stained timber, there is no need to remove previous coatings, as long as they don't seal the surface of the timber and retard the penetration of the oil. Coatings that do seal the surface must be thoroughly removed prior to applying the oil.
Applying Feast Watson® Decking Oil is simple. Just apply a flood coat to the deck with a brush, roller or Feast Watson® Floor Finish Applicator and allow the oil to penetrate the timber for approximately 30 minutes.
Remove any excess oil with a lambswool applicator or soft, dry cloth. Leave to dry for 1 hour then repeat the process until the desired colour is reached. Two coats are recommended but a third coat may be applied if desired.
Once you have finished oiling, allow 18 hours for the oil to dry before walking on the deck.
It really is that quick and easy, and the results will make your friends think you have splashed out on a new deck!
Customer Service number FREECALL 1800 252 502
or go to www.feastwatson.com.au.
Feast Watson® is a registered trademark of Orica Australia.