Dulux AcraTex - Universal design principles for access challenged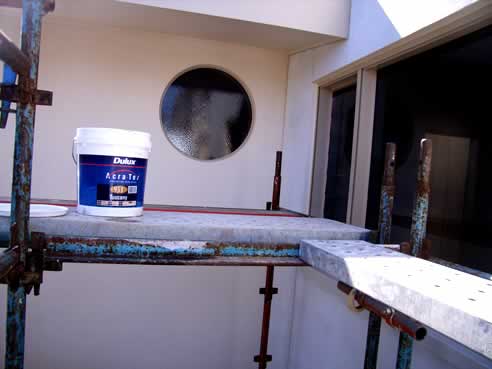 A pioneering project in the practical application of universal design principles is purported to be the first of its kind in Australia. Initiated on a Merimbula beach house by Sydneysider Alex Cochran after his partner became wheelchair bound, the project consolidates and applies all seven universal design principles.
The home, currently in week 36 of renovations, followed some 18 months of exhaustive research during which Cochran became overwhelmed by the volume of universal design theory available, and exasperated by the void of practical application case studies.
"When my partner Desiree suffered a significant stroke in 2006 that rendered her wheelchair bound, it became imperative to make her surrounds as comfortable, accessible and considerate of her situation as possible.
"I was shocked by the lack of resources available to people in our situation. When you are dealing with such a major emotional and physical change in your life, the last thing you want to be doing is to start from scratch researching and implementing universal design principles around the home," said Cochran.
Determined to pave the way not only for his wife but countless other access-challenged people, Cochran launched an online resource capturing his research, relevant products and services, networks and even a regular diary detailing the renovation progress.
Cochran was quickly supported by companies that immediately recognised the social relevance and value of the initiative. Dulux Australia in particular was keen to assist, as spokesperson Scott Bradley details.
Dulux paint products are particularly responsive to universal design principles. In the case of the Cochran's Merimbula project, Dulux interior paints were selected to minimise wall marking from the occasional bump from a wheelchair. Intergrain Ultragrip was used on the external decking to reduce the risk of slips and Dulux AcraTex was chosen as an exterior finish that is less likely to cause injury when brushed against than other exterior options with rough or sharp protrusions and edges" said Bradley.
"We are delighted to contribute our support to such a cutting-edge initiative. Mr. Cochran's tireless research and work, his attention to detail and commitment to assist not only his wife but the community at large is truly commendable. His online resource is proving to be a veritable lifeline for people in similar situations," said Bradley.
Indeed, the Universal Design Renovations website has been inundated with over 5,000 regular monthly visitors representing 122 countries.
"The access challenged community transcends age, race, nationality, gender... The online resource has made me realise just how desperate people not only in Australia, but around the world, are for consolidated information, practical and proven solutions, and advice," said Cochran.
The hitherto void of practical resources also addresses broader social issues, as Cochran highlights.
"Institutionalising loved ones with special needs should be the very last response undertaken. Keeping people in their homes not only prolongs their emotional wellbeing and happiness but also the economy at large. Hopefully this resource will be used for a wealth of situations so that homes around the world can adapt to the changing needs of their occupants," said Cochran.