Acrylic Texture Systems from Orica Texture Coatings - Dulux Acratex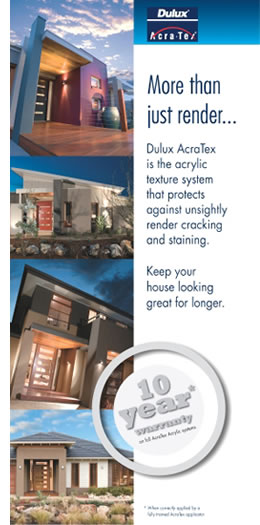 As an industry founder in the early 80's we can tell you that the genesis of our industry (Acrylic Texture) was actually the limitation and failings of cement renders resulting in the development of what we now know as Acrylic Texture Systems.
Those problems still exist today with cement render.
Cement Renders are inherently hard and brittle - prone to cracking and efflorescence staining.
Dulux AcraTex manufactures a range of trowel applied Acrylic Texture systems that deliver the contemporary render style your planning for but with Flexible Acrylic technology that won't crack and delamaminate.
If it's a coloured "rendered" look you've specified, ask your builder is he using Dulux AcraTex Acrylic Texture.
Call in to your nearest Dulux AcraTex display centre to find out more about AcraTex Performance Coatings for cement render.