Timber parquetry flooring from Wood Floor Solutions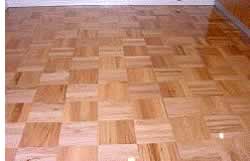 A centuries-old technique, parquetry timber flooring has been used to create stunning and hard wearing patterned floors everywhere from churches and important buildings to sports arenas, homes and hotel lobbies. These are essentially timber tiles and the patterns available are endless.
Creams Beech.
Coastal Blackbutt.
New England Blackbutt.
Southern Blue Gum.
Browns Brush Box.
Grey Box.
Ironbark.
Spotted Gum.
Turpentine.
Reds Blue Gum.
Karri.
Mixed Reds.
Rose Gum.
Finished Size; 260 x 65 x 14, 260 x 65 x 18, 340 x 85 x 19 & mosaic.