5 Star Energy Rated Skylight energilite® from Atlite Skylights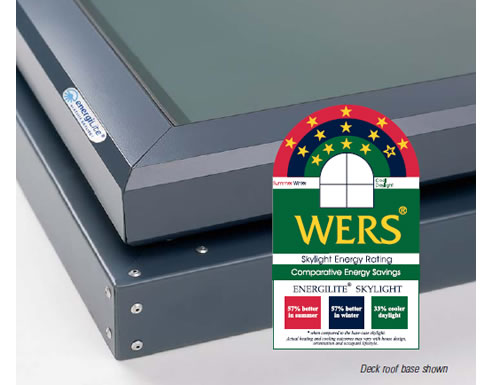 The energiLite® is a 5 star energy rated skylight as determined by the Window Energy Rating Scheme (WERS) for Skylights Program, licensed by the Australian Window Association (AWA).
The energiLite® is the first Australian designed and manufactured skylight to achieve a 5 star energy rating.
Features
Double Glazed Glass (IGU)
The Insulated Glass Unit (IGU) is specially designed to help achieve the 5 star energy rating, and comprises 6 mm toughened outer glass, Argon Gas infill and 6.38 mm laminated inner glass
Laminated Inner Glazing reduces UV by up to 95%
Suits all roof pitches - NOT restricted to a minimum roof pitch
Fixed and non-openable, but available in custom-made sizes without cost penalty
Low profile, compact design with no visible glazing fixings - excellent roof top appearance
Powder-coated aluminium frame to Colourbond colours, fixed to Colourbond base flashings to suit all roof types
Note: The lower the U-value of shading coefficient, the better the glazing from an environmental point of view.