High-Performance Liquid Waterproofing Membranes from GCP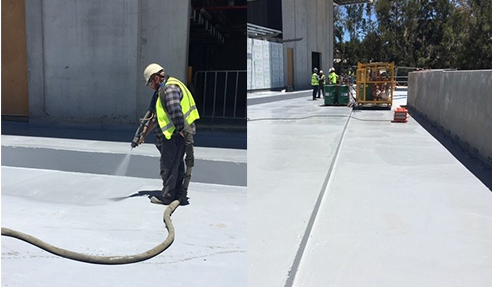 Top Five Reasons to Use Liquid Waterproofing
Ease and speed of application win out
Project: Australia National University Builder: Lend Lease Applicator: Central West Waterproofing Application: podiums, planters, entry foyer, general corridor walkways, roof decks Total area: 20,000m²
Architects are increasingly specifying liquid waterproofing membranes to extend the life of podium decks and roofs. Contractors are also finding they prefer these easy-to-install solutions over sheet-applied waterproofing membranes.
Faster build time
Often, it's easier and faster to spray-apply liquid waterproofing instead of installing waterproofing sheet membranes, since cutting sheets into shape and taking care of details and penetration often takes time and skill. In many cases, especially with un-reinforced liquid waterproofing, no sheet measuring and cutting is needed, and flashings can be taken care of by spraying or by using a brush or roller with the liquid on the details. New and improved liquid waterproofing technologies have primers and membranes that also cure quickly, allowing fast return to service to further speed up the construction schedule.
Seamless
The most common areas where waterproofing solutions fail is at joints and seams. Liquid-applied waterproofing can overcome this problem. As it's applied, with or without reinforcement, it spreads to coat the entire surface and cures to form a continuous membrane so there's no seam where water could get through.
Adaptable
It can be tricky to cut prefabricated waterproofing sheets to fit the surface to be waterproofed and ensure no fish mouths or voids appear in the membrane during installation. Liquid waterproofing systems overcome this challenge. They simply conform to the shape of the structure. This allows the waterproofing solution to be 100% truly monolithic, overcoming vulnerable points like joints and adapting to minor imperfections in the surface it is protecting.
Versatile
Architects prefer endless design possibilities and don't want their creativity hindered by rigid waterproofing solutions. From multiple pipes and drains on a green roof to hundreds of skylights on a standard roof, liquid waterproofing works best for many projects because it's engineered to be 100% monolithic, conforming to otherwise challenging designs.
High performing
As with sheet membranes, liquid-waterproofing solutions come in all sorts of performance levels. The highest performing liquid waterproofing membranes can outperform sheet-applied waterproofing membranes in many ways. The combination of physical waterproofing properties (i.e., shore hardness, tensile strength, tear strength, elongation, etc.), as well as their ease of use and speedy application, make them the go-to solution for contractors and architects alike.
They also have elastomeric properties so they can accommodate minor structural movements. As the structure settles or moves, the waterproofing membrane moves along with it to ensure maximum protection.
Sheet-applied waterproofing may work just fine for some applications, but for projects like roofs and decks that have many penetrations and there's a high risk of water ingress, liquid-applied waterproofing is the solution of choice.
Talk to GCP or visit www.gcpat.com.au to learn more about the high-performance liquid waterproofing membranes today.