Timber deck floors by Wood Floor Solutions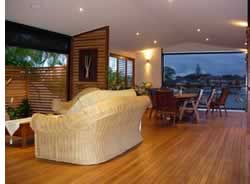 Bring the outdoors in... with a timber flooring deck. Decking is a fantastic way to enhance the aesthetic appeal of any home, garden or building. Its functional beauty is in harmony with its environment and its versatility lends itself to a huge variety of forms and styles.
Creams Blackbutt, Mixed Hardwoods, Tallowwood.
Browns Belian, Merbau, Spotted Gum, Yellow Balau.
Reds Blue Gum.
Finished Size 64mm, 68mm, 86mm & 90mm x 19mm, 140mm x 19mm, 140mm x 21mm, 140mm x 25mm.