Data for Shingles and Shakes Simplified from Timbeck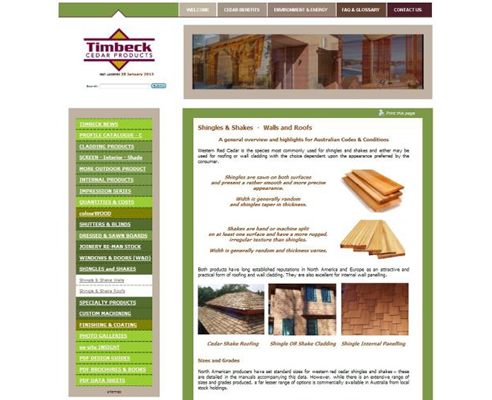 Timbeck Simplifies Access to Data for Shingles & Shakes

Often overlooked and not widely used in Australia, Western Red Cedar Shingles & Shakes are an excellent product for not only roofing, but also for wall cladding, both internal and external. Product information & fixing data has been around for some time, and Timbeck has recently simplified access to that information by posting full versions of the most authorative specification material directly into their web site. PDF versions are available for download but if preferred, all details can be more conveniently accessed by just scrolling through the same web based content. Specifiers seeking this quick scrolling reference need simply just click on the Left Hand Shingle & Shake TAB. Hyperlinks to all main sections are also included to further hasten the process. For brief references, this is often much faster than a full PDF download or searching folders for stored PDFs. Both Roofing and Walling Manuals are renowned world-wide for their broad content, specification notes, graphic details and comprehensive data.


07 3888 7788 - 02 9709 4466
PO Box 1127, Burpengary, QLD, 4505