TIMBECK architectural Australia's Timber Products Specialist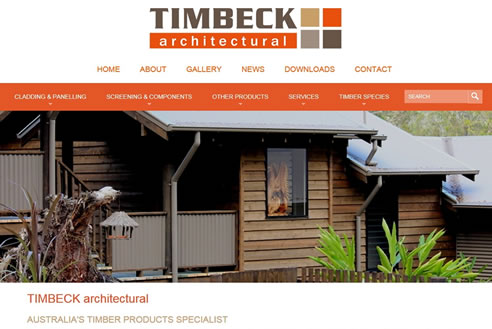 TIMBECK architectural
an expanded specie offering presented with new image
and web site upgrade
Timbeck Cedar Products has consolidated its foray into a wider range of timber species and adopted a totally new image to herald in the changes.
While the well established reputation of 'Timbeck' being 'Australia's Western Red Cedar Specialist' remains the cornerstone of the business, the significant widening of the specie range is reflected in the new 'TIMBECK architectural' now also being branded as 'Australia's Timber Products Specialist'.
The new web site continues to house the voluminous range of technical data for which TIMBECK is well renowned and now also includes expanded content covering the additional species and aspects uniquely related to them. There are 16 in all including Spotted Gum, American Oak and Victorian Ash.
Of particular interest to Building Designers will be the much widened content on fixing and finishing. Both of these are somewhat subjective issues and TIMBECK has focused more broadly on often overlooked factors affecting each. Both fall very much into the category of 'one size doesn't fit all'.

07 3888 7788 - 02 9709 4466
PO Box 1127, Burpengary, QLD, 4505