Stainless Steel Pit Grates and Drains from Vincent Buda & Company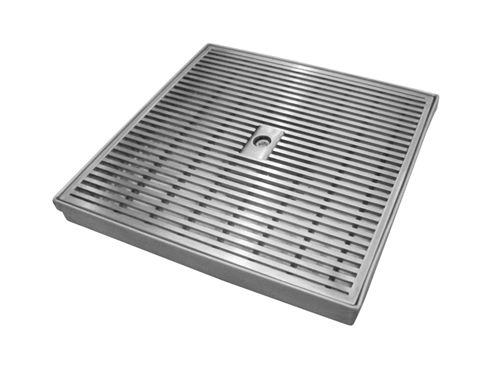 Full Stainless Steel Grate and Box - This product is ideal for poolsand patios and any pedestrian.

Available in 2 sizes - 200mm x 200mm Wide x 35mm Deep and 300mm x 300mm Wide x 65mm Deep - Heelguard Pattern Stainless Grate and Full Stainless Steel Drain Box. Made from 316 marine grade stainless steel. Outlet size 75mm. Drain Base comes with folds in base to aid water flow to outlet. Base is fully welded. Grate is locked down to base. Grate top is our Heelguard top. The Heelguard grate is made from 3mm Wedge Wire welded with cross braces and full edgebars around the perimetre. Advantages of our Heelguard.
3mm Wedge Wire with 4mm Aperture
5mm ( x 20mm deep) edge bar all the way around the grate
Cross bars every 25mm
Tapered cross bars reduces build up of dirt and mud
Available online at www.showerdrains.com.au