Zero Threshold Drain for Bifold Doors from Vincent Buda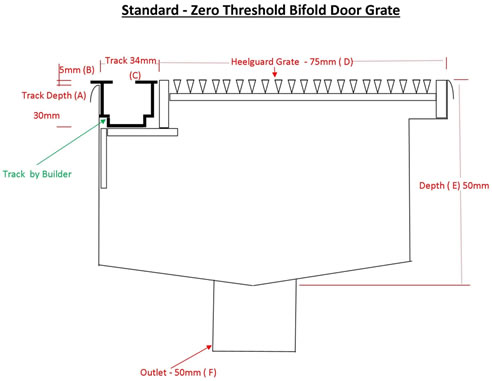 Zero Threshold Drain to suit Bifold Doors
The Vincent Buda & Company Zero Threshold Drain provides an attractive and practical solution for providing drainage in applications where a Bifold or similar door is used and where you wish to incorporate the Bifold door with the drain. The zero threshold drain provides a trip free solution between your indoor and outdoor areas while being able to collect any water that is required.
The zero threshold drain is made from marine grade 316 stainless steel and is made to order. As individual requirements are different on most projects, the zero threshold drain is made to suit the measurements required, i.e track width and depth.
The zero threshold drain consists of a outer drain with a vee folded into the bottom and outlets where required. The bifold track then sits inside the drain base alongside a heeguard grate. This can be made to suit whatever measurements are required.