Bounty Stainless Steel Floor Grate from Vincent Buda & Sons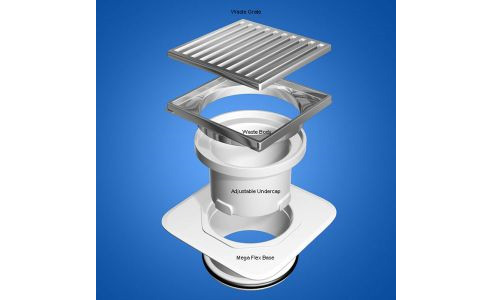 Description:
The Bounty Stainless Steel 110mm x 110mm square on Square Floor Grate is made from 316 Marine Grade Stainless Steel and incorporates a Megaflex leak control flange and under cap mortar exclusion device. Not only is this floor grate durable but it offers clean lines and looks fantastic. They match our linear stainless drains perfectly.
This great and easy to install with the adjustability of height and tilt while enabling positive engagement with your waterproof membrane. These grates are Watermark approved and can be used in a large range of applications.
This grate comes with a 80mm Outlet and grate has a chrome plate finish.
Face Dimensions: 110mm x 110mm
Connection Size: 80mm

Materials:
Grate : 316 Stainless Steel Chrome Plate
Base : 316 Stainless Steel Chrome Plate
Undercap : Polypropylene
Megaflex Base : A.B.S

Finish: Polished