Aluminium Tile Insert Drains from Vincent Buda & Company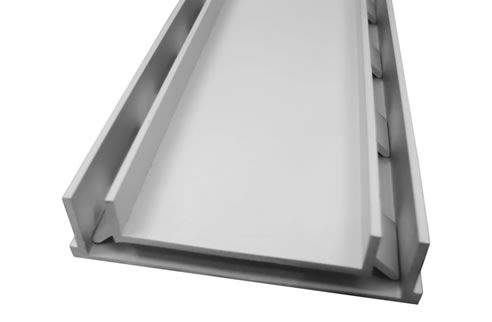 Introducing the new range of Aqualuna linear tile insert drains available exclusively thru Vincent Buda & Company. The new range of linear tile insert drains is available in Anodized Aluminium. When a linear grate is required and you wish to hid the fact the it is a drain, and cost is important, than the aluminium linear tile insert is choice for you.
Available in 2 sizes - 85mm wide x 25mm deep & 85mm x 40mm deep. The drain base flat on the base and is made from Anodised Aluminium. The tile insert is also made from Anodised aluminium and can easily be taken out for cleaning. These grates are sold in modular form - that is they come in 1 metre and 2 metre lengths. End caps, Joiners and Outlets are all sold separately. These drains can be cut and joined to basically for any length that you require. They are easily cut on site and can be joined by a good Polyuthene Sealant.
Vincent Buda & Company offer fast delivery Australia Wide.
Order online at www.buda.com.au