Pre-Applied Waterproofing for Below-Grade Structures from GCP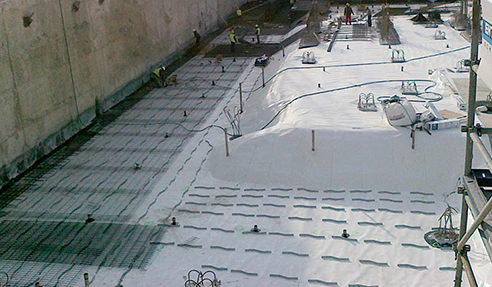 GCP's Pre-applied waterproofing protecting below-grade structures
Certain types of below-grade structures, such as deep foundations or those with luxury spaces, require the highest levels of protection.
Safeguarding deep foundations
In many cities, developers are contending with limited lot sizes by creating extended basements or other below-grade spaces built deep in the ground. It's common to see multi-level parking garages or mixed-use spaces several basements deep. In these situations, it's prudent to apply high performing waterproofing systems to combat the great external pressures on the foundation and aggressive soil conditions that can easily lead to water infiltration and corrosion. Dewatering is also needed during construction since these structures are usually built well below the water table.
Waterproofing mission-critical spaces
The type of waterproofing system needed depends on many factors, including how the below grade space will be used. If the basement will purely be unfinished space, is not within the water table or in an area with a fluctuating water table, and won't house valuable items, it may be acceptable to use solutions such as waterproof concrete. However, if the space will house valuable items (for example luxury vehicles, artwork, or medical equipment); will be used as finished space; is within the water table; or is in an area where the water table is likely to fluctuate, it is prudent to use a bonded, pre-applied waterproofing membrane. This solution is ideal for waterproofing mission-critical spaces.
Waterproofing mass transit systems
Subway and railway stations also tend to have below grade spaces that necessitate a high degree of protection from water ingress as well as aggressive soils. Any moisture or water leaks can result in costly repairs and service disruptions. The intense hydrostatic forces on the underground tunnels mean there is a constant threat of water infiltration. These demanding conditions require waterproofing systems that are highly durable and prevent lateral water migration.
Pre-applied membranes
Pre-applied membranes such as the PREPRUFE® Plus waterproofing system are often recommended for critical below-grade spaces, such as hospitals, schools, condominiums, museums, and retail spaces. The membrane is placed prior to the concrete being poured. The concrete is then poured and creates a bond with the membrane as it cures. Once the bond is formed, the membrane prevents water and moisture from infiltrating the structure. The PREPRUFE® Plus waterproofing system also provides a critical barrier against hazardous gases such as methane, radon, and volatile organic compounds that can seep into the structure. This means one membrane can serve as a barrier against both water and against fumes from contaminated soil.
Talk to GCP's technical department today or visit www.gcpat.com.au today.