Timber Waste Masonry and Concrete Products from Ligna Group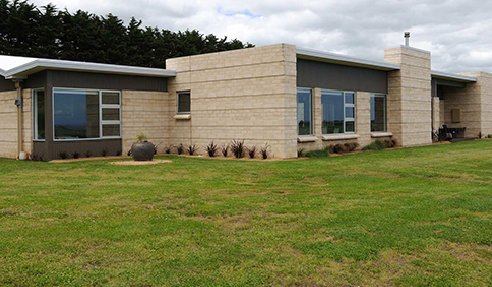 Ligna Group is widely recognised as manufacturers and distributors of timber waste masonry and concrete products, Timbercrete and Ligna Stone. What makes the Ligna Group unique is its ability to convert timber waste masonry and concrete products into genuinely sustainable building materials as a social response to the growing trend of achieving a sustainable building and construction industry.
Genuine Sustainability, Naturally Better
Ligna group's patented formula mix of timber waste, sand, cement and binders produce a distinct building material that is packed with benefits over conventional clay or concrete bricks.
Low embodied energy: The timber waste masonry and concrete products are handcrafted and cured naturally, hence, less energy is used during production.
Superior thermal insulation: The natural mixture of timber waste when combined with double clay or concrete equivalents lead to superior thermal performance.
Post-industrial waste usage: The Timbercrete and Ligna Stone are mainly composed of 50% to 70% timber waste.
Works as a carbon sink: The timber waste masonry and concrete products absorb and lock up carbon dioxide for the rest of the service life of the product.
Reduced energy costs: With its superior thermal insulation comes a reduced need for artificial heating and cooling systems.
Lightweight: The Timbercrete and Ligna Stone weigh half the weight of concrete or clay.
Fire-resistant: Ligna Group takes pride in winning the 2015 Bushfire building Council of Australia's Building Product Innovation Award by exceeding the highest possible fire resistance with FRL of 240/240/240.
Load-bearing: Its durable composition is suitable for load-bearing applications, such as double bricks, single leaf and retaining wall constructions.
Get to know more about the timber waste masonry and concrete products by heading over www.lignagroup.com</a>.</p>