Cobblestone Bricks Thermally Efficient from Timbercrete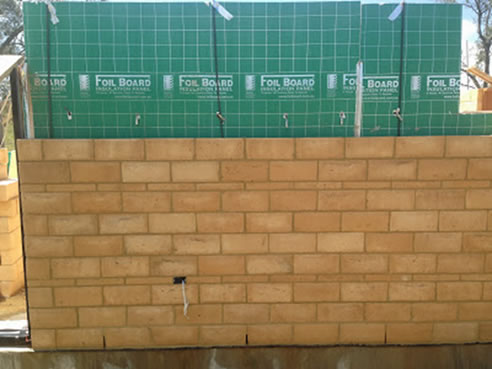 Mount Barker Double Brick Timbercrete
A Mount Barker (SA) Studio is currently being built using the Timbercrete 360 Series Cobblestone bricks. This will prove to be a very energy efficient structure with high wall insulation value and the blocks also having strong thermal mass.
The use of 10mm Foilboard insulation in the cavity pushes this wall to approx R3.
The use of 'Slithers' of Timbercrete blocks in this structure have given it a very unique look and the 'Cobblestone' finish certainly suits the feel in this rural setting of Mount Barker.
Timber reveals around the windows and door frames are a great way to finish double brick cavities.
The 360 series Timbercrete blocks are 360 x 175 x 100 mm in size and are great for a number of projects. These bricks come in cobblestone, sandstone or textured stone so you can choose what will be best in your home and environment.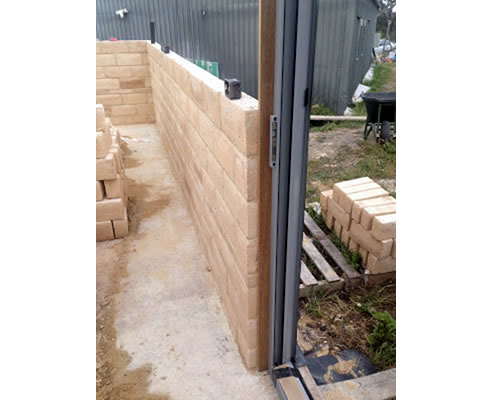 The Cobblestone Timbercrete blocks have a subtle cobblestone appearance as the brick bllies out slightly. This creates a beautiful yet subtle curve on the face. There is a slight variation to each brick as they are each handcrafted. The cobblestone appearance creates a soft ambiance internally and extrernally. The bricks are smooth to touch and are visually soft on the eye. Cobblestone bricks come in the standard sandstone yellow, however if you wish to have a slightly different colour it is possible. These bricks can be made with a monolithic theme or colours can be blended to your taste.
When using Timbercrete you can be assured you are doing your bit for the environment. The manufacturing process requires much less energy to produce and is far less pollutant than clay fired bricks.