Thermal Brick House South Australia from Timbercrete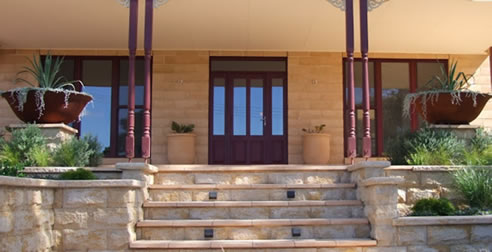 Classic Style Home Built Using Timbercrete 'Sandstone' Bricks
A new beautiful home has been built in Bellevue Heights in South Australia, and it surely stands to impress with its elegant style of Sandstong Timbercrete bricks. The landscaping artistry has also been matched to fit right in with the bricks used to build the home.
The home doesn't just look fabulous. With the thermal qualities of Timbercrete, these bricks provide nearly 7 times more insulation value than the usual standard clay brick while still performing as a thermal mass.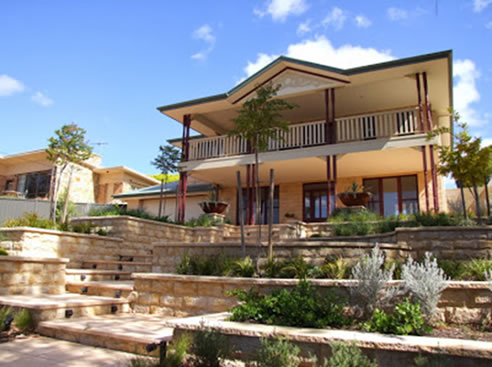 These Sandstone bricks were hand made by Timbercretes team in the Adelaide south plant. This is just twenty five minutes down the road from this home in McLaren Vale. The local plant means the bricks are travelling locally only a short distance which means less energy cost in transport. Not only does the local distance mean less energy costs in transport but the Timbercrete mixture being manufactured using local timber waste and Timbercrete bricks being air-dried, means a negative use in carbon output compared to the large volumes of carbon output produced through clay brick manufacturing.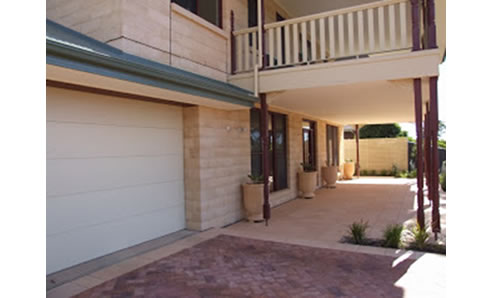 The blocks on this home are manufactured with a 'Sandstone' finish, Timbercrete blocks can also come in a 'Cobbletsone' or 'Textured' finish and a variety of colours.
All Timbercrete products come with significantly improved environmental benefits and are the only bricks, blocks, panels or pavers that actually stores carbon gas. Timbercrete is made from discarded timber, a waster product, which is sequestered in a cementitous tomb. This process offsets the carbon gas emissions of thousands of cars per year. Being a carbon trap or cabon sink it locks up thousands of tonnes of carbon gases annually. The more widely Timbercrete is used, the great the amount of carbon gas that can be sequestered.
Timbercrete bricks and blocks can be used to build any style home and comes with a great deal of environmental friendly advantages.