Fixing Panel Wall System with Timbercrete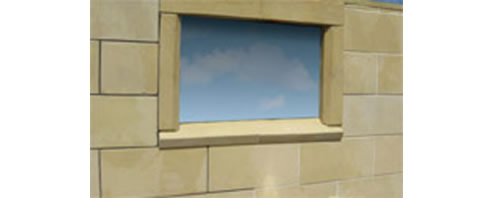 Fixing Panel Wall System: Cladding, Bricks and Pavers by Timbercrete
The fixing panel wall system is Timbercrete's revolutionary new system that is a drop in replacement for brick veneer or weatherboard style construction.
Timbercrete has always been proud to be Australia's most versatile brick, block and paver manufacturer. This continues with the wall panels. If you wish to specify your own panel size and shape then we can help (some limitations apply). If the size and shape you want isn't available, we may be able to tailor a panel to suit your requirements.
Colour possibilities are vast. There are subtle or pronounced colour variations which is typical of sandstone.
Timbercrete Wall Panel Flexibility - Each Timbercrete wall panel has a thin 4mm flexible mortar bed. This helps to create a watertight/airtight joint. The purpose-built galvanised metal brackets follow the contour of the panel's top step and each bracket is secured to the stud with a counter sunk self tapping screw. When using a flexible glue compound for mortar each panel is allowed to flex slightly. This then acts as a control joint. A good flexible glue compound is the 'Sikaflex' control joint filler. This is usually available through your Timbercrete manufacturer. To maximise the flexible nature of the wall panel system, the panels should be fixed directly to the stud frame. Steel frames are ideal in this situation because they can be fixed with screws through the back of the steel frame and into the panel. Sisalation is sandwiched between the back of the panel and the face of the stud and is put in place before the panels are fixed.
Timbercrete fixing panels can also be glued directly to fibro sheeting such as Hardy-flex or Blue Board. After applying the wall sheeting simply choose an external grade tile adhesive and glue the fixing panel directly to the sheet. No need to worry about gapping the panels as you do with typical wall tiles, just simply rest each panel against the next one.
The slightly tapered design of the panels will create a beautiful shadow line approximately 4 mm wide. There is no need to waste time and money to grout the panels. In this situation the wall sheet will provide the necessary waterproof barrier.
Timbercrete fixing panels are far more cost-effective per square metre than a standard brick veneer style of structure. To begin with there are significant savings on footings and foundations followed by savings on the product and installation of the product.
Regardless of how you choose to fix our panels the end result will be a no maintenance highly durable and long lasting wall finish. Even at only 60mm thick, Timbercrete fixing panels are shock resistant and even bullet-proof against most weapons.
This simple to install wall panel system, will do away with the problems associated with bricklaying. It is significantly faster to erect and can easily be installed by any tradesmen or handyman.