Building with Timbercrete Bricks and Blocks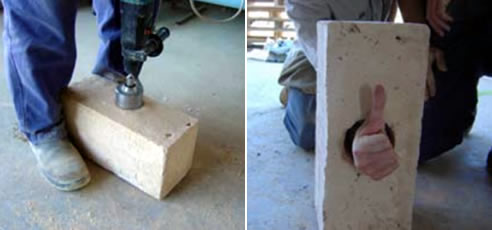 Cutting, Splitting and Drilling
One of the greatest advantages of building with Timbercrete bricks is the trade friendly attributes that come with them. The bricks and blocks from Timbercrete can be cut and drilled, just like timber; however, masonary blades and drills will need to be used.
For best results without excess dust, it is suggested you use a standard watercooled masonry block saw. Other tools that you may wish to use are a masonry blade on an angle grinder, a handheld hebal saw, reciprocating saw, jigsaw or the bricks and blocks can be shaped and split with a chisel.
When a home is designed around the dimensions of the Timbercrete bricks and blocks, there will be very little need for any block cutting. However, if the home is designed with special features such as portholes or arches, cutting may then be required. If a home is designed with arches, Timbercrete suppliers may be able to provide you with precut blocks.
To cut and split a brick or block from Timbercrete there are 2 steps. First, you need to score around the entire surface with an angle grinder, using a masonary blade, leaving the score approximately 10mm to 20mm deep. After this simply separate the scored areas by hitting it with a lump hammer and bolster chisel. If you have any protruding pieces, a scutcham hammer will easily remove these.
Timbercrete bricks and blocks come in a range of different shapes and sizes so the need for cutting, splitting and drilling is minimal. Before you do any work on the bricks you may want to check to see if you can purchase the precut bricks to save you time, effort and energy.
Whenever you build with Timbercrete there are four fundamentals in achieving the best possible results. Observe incremental block laying procedure, clean off exceess mortar during block laying every day, use correct Timbercrete mortar mix and only lay blocks after the 'use after' date on each pallet.