Pool Coating Solutions Sydney from Hitchins Technologies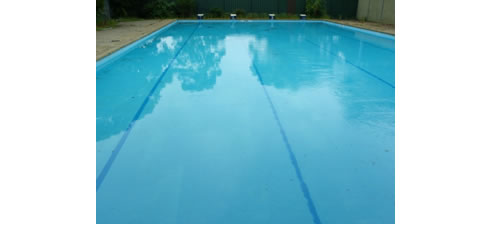 Proven Pool Coating
This Community Pool (25 M) shows the benefits of using Epotec epoxy pool coating. Boystown in Sydney selected Epotec to recoat their pool in the summer of 2006, 6 years ago. Despite it being a hi usage pool and having lots of wear and tear including a significant amount of windblown, abrasive sand in the pool, the result after 6 years is very satisfying. With few exceptions the coating is intact and performing as expected. The main wear is confined to a few areas at the foot of the steps.
Epotec is the economical coating for pools of all shapes and sizes.
Epotec is available from Hitchins Technologies and is specially formulated to be suitable for water immersion 24/7. It produces a thick coating which is seamless, hard wearing and decorative.
Being seamless there is no rough areas to attract algae and detract from the visual appeal. Such a surface means it's easy to keep clean. This saves the pool operators and owners' money, year in year out.
Epotec chemically bonds to concrete making it very durable. It withstands wear and tear and has a life of 10 - 14 years in domestic pools, 5 - 10 years in commercial ones.
Epotec is usually applied in 2 coats, by roller and/or brush to correctly prepared clean sound surfaces. A warranty up to 5 years is available.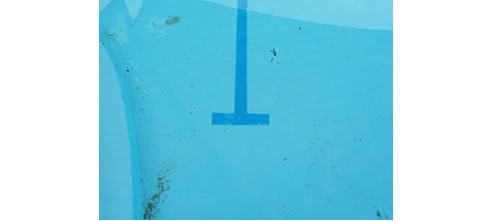 Worn areas at foot of steps and sand too