High Performance Pool Coating - EPOTEC from Hitchins Technologies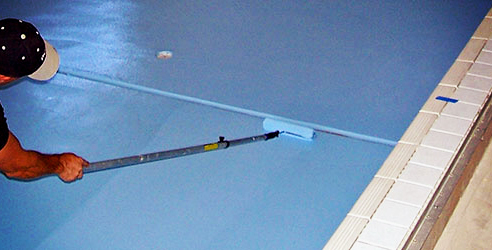 Hitchins Technologies operates based on letting you enjoy your pool for at least 10 years, and for most domestic pools 12 years plus is usually the case. This is because having spent a lot of time cleaning and preparing the surface of their pool, most home owners do not want to do it all again anytime soon. We safely assume you are of similar mind!
For peace of mind, Hitchins Technologies offer through Approved Applicators up to a 5 year written warranty (if they do the work and follow our specifications). NO other pool coating manufacturer in Australia offers any warranty - so they don't back up their words where we do!
There are no short cuts with epoxies. Our EPOTEC is almost 100% solids; that is, it effectively has no solvent or thinners. Most other epoxy manufacturers cheapen their "in the can" price by adding thinners, often up to 50%. Thinners are cheap compared to epoxy resin, so when you use their paint on your pool half of it evaporates into the air. And though it's cheaper to buy in the can, you end up with only 50% of the product staying behind on your pool surface - not enough to last.