Preprufe Membrane Pre-Applied Waterproofing Solutions by GCP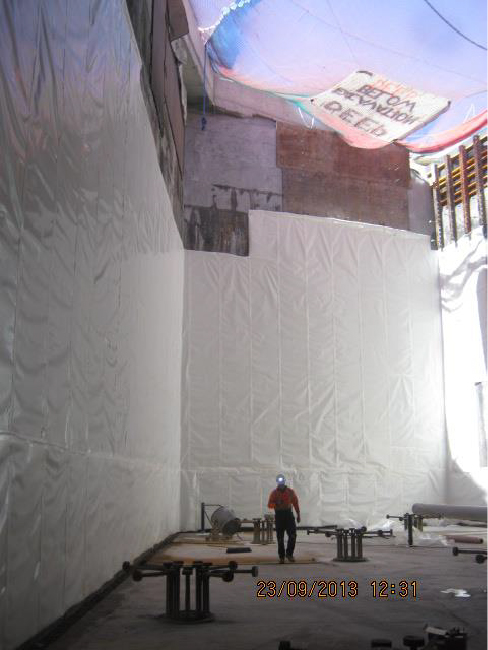 Protect your structure with a proven waterproofing membrane
Comprised of a robust HDPE film, pressure-sensitive adhesive and protective coating, PREPRUFE® Membranes form a robust, permanent and aggressive adhesive bond with any concrete slab. PREPRUFE® Membrane products are specifically designed to perform in critical applications and incorporate Advanced Bond Technology™ to ensure fully adhered and long-lasting product performance. This technology allows PREPRUFE® Membranes to form a continuous unbroken seal with the concrete for the design life of the project.
A proven, reliable waterproofing solution for critical applications
PREPRUFE® Waterproofing Membranes Advanced Bond Technology™ creates a continuous, integral adhesive bond to poured concrete. This adhesive seal is specifically designed to prevent the lateral migration of water into and around the structure and provides performance for the lifetime of the structure. Standard ASTM hydrostatic head testing demonstrates that in the case of a puncture, this fully bonded membrane can successfully prevent water from migrating between the membrane and concrete, greatly reducing the risk of catastrophic waterproofing failure. Independent testing and a 25+ year track record has proven that PREPRUFE® Waterproofing Membranes can resist lateral water migration at extremely high pressure and has been successfully tested at 70 meters of hydrostatic head pressure. For this reason, PREPRUFE® Waterproofing Membrane systems have been proven to perform globally in the world's most critical applications.
Contractor friendly, straightforward installation allow for performance and accelerated project schedules
Many systems in the market today require the use of welding or mechanically fastened laps. These installation requirements require a skilled installer, introduce risk to the installation and take time, effort, and expertise. These methods require a large crew and specialized equipment in addition to creating the potential for dangerous and unpleasant site conditions such as odour. In addition to the logistical challenges, these processes tend to be finicky - common job site challenges such as dust and moisture can easily result in incorrectly completed laps and details, both of which may result in expensive and costly long-term consequences.
By contrast, PREPRUFE® PLUS Membranes can be applied with a small crew and requires no special equipment for installation.
Membrane installation is simple: a "kick-out" design allows workers to unroll a sheet in seconds. With PREPRUFE® R Plus Membranes, the dual adhesive ZIPLAP™ seam allows sheets to bond to one another easily, and is designed to resist common nuisance conditions onsite - dust, debris and moisture.
World-quality waterproofing
With applications on mega projects such as the Alaskan Viaduct, the largest bored tunnel on Earth, PREPRUFE® Waterproofing Membranes have been proven the world over in critical applications. Over the last 25 years, builders have installed more than 650 million square feet of PREPRUFE® Waterproofing Membranes. For below-grade applications - there's PREPRUFE® Membranes have earned the reputation as the most reliable and trusted brand in waterproofing. For more information on how PREPRUFE® Waterproofing Membranes can benefit your project, contact GCP today.
For further information, please visit gcpat.com.au.