DIY Pool Resurfacing from Hitchins Technologies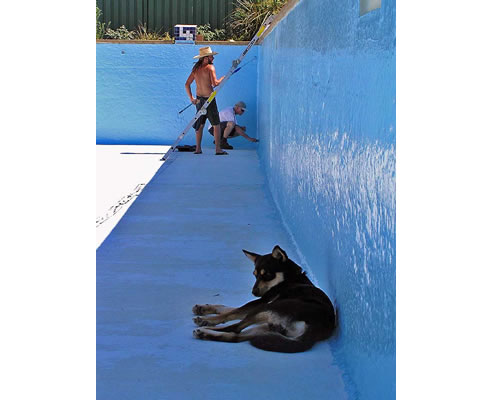 REPAIR YOUR SWIMMING POOL
Yes! You can resurface your swimming pool (or spa) and save thousands of dollars.
If your pool is looking tired, hard to keep clean, cracked and dirty, then find out how to save money and repair it your self. We can work with you anywhere in Australia.
Join many other Australians who have found the ideal way to economically rejuvenate their pool with a proven, hard wearing, easy clean, decorative and long lasting paint finish.
They used Epotec. Epotec is sold and supported by us, Australia wide. Epotec is a specially formulated premium Hi Build Epoxy, which has more than 20 years success in the tough Australasian environment. Epotec is an ideal DIY epoxy swimming pool paint.
Do it yourself and enjoy the result. It's not as complicated as you may think. Our clients have been pleasantly surprised at the great result and the ease of painting.
We will send to you the correct amount of EPOTEC, after you provide us with information about your pool.
Whether your pool is concrete, painted concrete, Marblesheen, Pebblecrete or Fibreglass, Epotec when used on a correctly prepared surface will add thousands of dollars value to your home, with out breaking the bank.
You will enjoy Epotec for 7 - 12 years without having to recoat and when it comes to upgrading it's straight forward as well.
Look through our web site. There is comprehensive information about the choices you have, the advantages you will gain and the money you will save.
We welcome any comments or questions you may have. Simply contact us by phone, fax or email for prompt attention.
If you decide you would prefer to use the services of a painter or Approved Applicator, we can assist you there as well.
When using Epotec we look to keep you out of pool repainting for at least 10 years...and often longer. Why wait.
Don't hold back - dive in! Join others right around Australia.
The result will bring a smile to your face and a grin to your wallet. You'll save several thousand dollars and more by doing it yourself.