Pool & Spa Resurfacing from Hitchins Technologies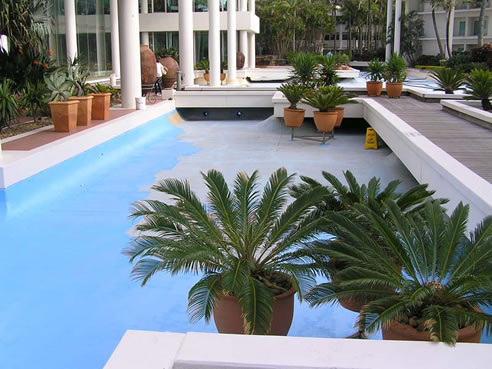 Need to resurface (paint) your Pool/Spa?
With a Marblesheen, Pebblecrete Fibreglass or a Concrete (Painted), pool/spa, generally after 15-20 years the original surface will be worn, tired and need to be resurfaced. It may even be less than 10 years if the pool surface is poorly finished or has had a lot or wear and tear.
Over time you will find the pool surface starts to break down and becomes porous, becomes difficult to keep clean, harbouring dirt and bacteria. It may even start to crack and blister.
Certainly it will have lost it "when new" finish. On no account should pool water be allowed to get into the pool structure. If water does, it will cause expensive (corrosion/rotting) damage to the structure.
The advantages of painting you pool or spa are:
Decorative - 14 colours available
Seamless
Easy to clean
Long lasting
Economic
Warranty Available
Can "do it yourself"
Our epoxy, called EPOTEC, out sells the chlorinated rubber paint by many times, due to its longer lasting, harder wearing features. EPOTEC Hi Build has proven to be the best, long term pool paint, with over 20 years usage in the demanding Australasian environment.
From schools and commercial pools, to residential pools and spas... Epotec Hi Build is the answer.