White Aluminium Composite Panels from Fairview Architectural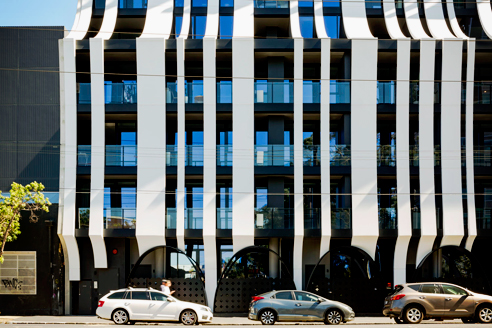 The Vitracore G2 White Ribbons Of Collingwood's Lantern Apartments
The Lantern Apartments located in the thriving green spaces of Melbourne's inner-city suburb of Collingwood, feature our non-combustible Vitracore G2 over the striking black-and-white facade of the 9-storey residential project.
The bespoke development, designed by Plus Architects and installed by the team at Collmill Group, prominent veil of cascading white ribbons are clad in our Vitracore G2 aluminium composite panels in Snow White. The apartments overlook a myriad of sights ideally positioned on the corner of Wellington and Napoleon Streets in central Melbourne and the arching sculptural forms are enjoyed from both inside and outside, where the uniquely clad curves provide both light and shade, and the reflective, polished textures meet sharp, geometric, angles.
Vitracore G2 proved an optimal choice for this design feat with the surface flatness of the panels enhanced with a high quality PVDF coating system which provides the ultimate resistance to weather and industrial pollutants.
For more information about using Vitracore G2 please visit fv.com.au.