Preprufe Plus Waterproofing from GCP Applied Technologies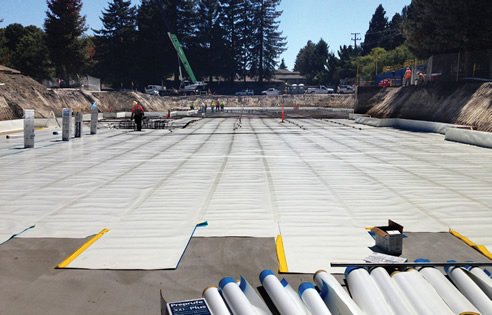 GCP's PREPRUFE® Plus waterproofing has arrived in Australia
Central to facilitating more underground construction and prolonging design lives, is the process of waterproofing. Yet delivering effective waterproofing is a challenge: it must be done correctly at the outset of a project otherwise development owners will face rising maintenance costs over a structure's lifetime.
One of the most popular and globally specified basement waterproofing products for over 25 years is PREPRUFE® pre-applied waterproofing from GCP Applied Technologies, previously Grace Construction Products.
The PREPRUFE® Plus membrane, the latest in the PREPRUFE® family, is now available in Australia.
It comes with an innovative adhesive-to-adhesive bond to the seams provided by PREPRUFE® ZIPLAP™, which enables fast, equipment-free application, while delivering strong bond in wet and dusty job site conditions.
It is release liner-free, reducing installation errors and waste.
The easy kick-out roll enables labour savings and faster installation.
Unlike many other membrane systems, PREPRUFE® does not rely on the mechanical bonding of fibres or variable hydration processes. Its Advanced Bonding Technology™ provides a full and continuous bond to cured concrete, forming a unique seal between the waterproofing layer and the structure. It prevents water migration into and around the structure thereby protecting the concrete from deterioration caused by the chlorides and sulphates in groundwater or aggressive soils. It can be applied directly to wet substrates and is immediately ready - without protective layers - for rebar installation.