New Unitex Base Board - a platform for lightweight insulation cladding: a brand new innovation in lightweight building systems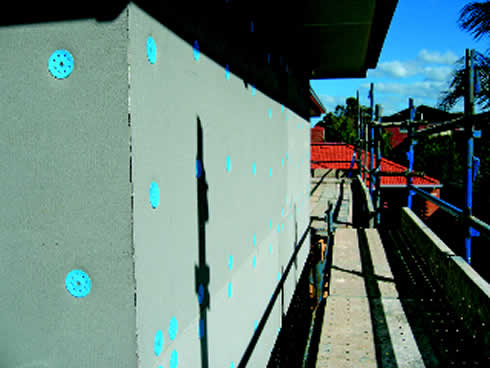 Unitex Base Board is quick and easy to install.
With pressure on local manufacturers to deliver evermore affordable building products, Unitex have developed a tough yet lightweight solution for insulation cladding. Branded Unitex Base Board™, this flat panel arrives on-site with a pre-finished, low-build render system - ready to install.
Each panel measures a standard 2400 mm x 1200 mm and the pre-rendered finish saves on labour costs on-site. Builders can also simply use their carpentry teams to install the Base Board and get the project to lock up quickly and easily.
First-time user Fred Pradel from Pradcon explains, "...as a lightweight cladding, it's fantastic. It is subject to less movement and has good insulation qualities." Pradel, who also works with his brothers Andrew and Daniel, found the product to be easy to work with and quick to install, "The Base Board can be set straight and plumb quickly and cuts to size very easily."
Once fixed, Uni-Mesh is applied over all joins and a skim coat of an approved Unitex Render and a Unitex Finish coat of choice is applied. This system is known as the Unitex Lightweight Board Insulation System (LBIS).
Unitex Base Board, a high-quality cladding alternative that helps build your dream - even on a tight budget.