Airborne Isolation and Containment Filtration Systems from Airepure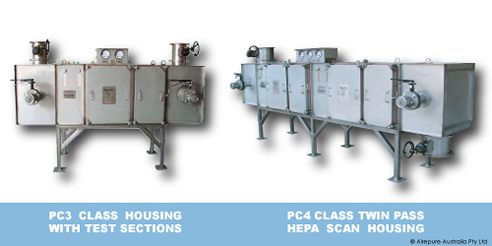 Airepure Australia is a leading national air filtration company providing unique, powerful and integrated air filtration solutions, ranging from basic HVAC filtration through to high end HEPA/ULPA filtration and airborne containment technologies.
We have our own range of quality air filtration products, accessories and NATA testing services. We are able to offer a growing range of specialty air filtration products and services through our long standing partnerships with various leading and respected international air filtration companies, including Flanders CSC, Linair, Purafil Inc. and Strobic Air.
Flanders CSC specialise in airborne, radioactive, biological & chemical hazard containment and isolation technologies for the most advanced military, pharmaceutical, hospital, and biotech lab facilities. Their product range includes:
HEPA (particulate) and HEGA (gaseous) containment systems
Bag In/Bag Out - Fluid Seal or Gasket Seal Housings
Isolation Dampers (Bubble & Gas Tight)
In Place Efficiency Test Housings
Custom Engineered Filtration Systems
Airepure Australia has provided various custom airborne containment solutions to clients, including several government and private research institution sites around Australia.
We are able to offer a range product that will assist you with compliance to AS/NZS 2243.8:2014, AS/NZS 2243.3:2010, DHS Vic Guidelines and equivalent for QLD, WA and NSW. These may include custom containment air filtration systems, air showers, glove boxes, ultra clean ventilation systems, HEPA filters and terminal HEPA housings, AS/NZS 2243.8:2014 compliant manifolded process fume exhaust systems, air filters and pre-filters.
Further information regarding Flanders CSC airborne containment and isolation technologies is available on http://www.airepure.com.au/products/45-flanders-csc-technologies
Airepure Australia have office or agent, warehouse and technical support facilities in all major cities, including Melbourne, Canberra, Sydney, Brisbane, Townsville, Adelaide, Perth, and Hobart.
Call 1300 886 353 to contact your local Airepure office today.