Western Red Cedar Information Design Guides from Timbeck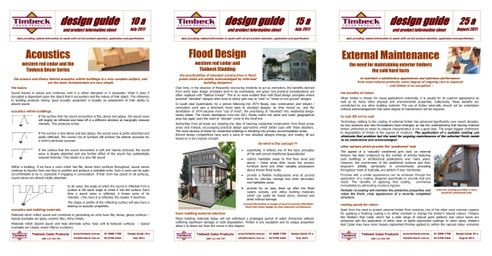 TIMBECK broadens its information base
Having largely bedded down its recently rejuvenated web site, TIMBECK, an acknowledged market leader in the manufacture of Western Red Cedar products has further widened its information base with the recent release of a new series of Design Guides.
These new publications are intended to look beyond specific product data and focus on more general aspects of timber application and use. The series is also designed to heighten awareness of optimising specie selection and maintenance issues.
TIMBECK plans to continue adding to its library of Design Guides and future publications will address topical and problematic subjects familiar to many building designers.
The initial release comprises three subject matters:
Timber and Acoustics
Flood Design & Western Red Cedar cladding
External Maintenance of Timber
All Design Guides are readily available in PDF format from www.timbeck.com.au
07 3888 7788 - 02 9709 4466
PO Box 1127, Burpengary, QLD, 4505