Sandstone Look Eco Friendly Bricks from Timbercrete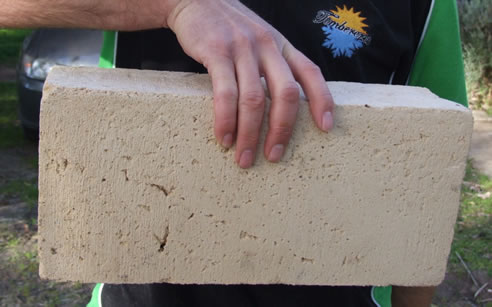 Bricks, Home Building with Timbercrete Sandstone Bricks
Many home owners love the look of a Sandstone home, now it could be more of a reality than just a dream. Timbercrete's new Hunter Series 'Sandstone' brick looks phenomenal, is a perfect replacement size for clay brick, has environmental benefits to burn and is economically priced. Not to mention the fact that you can nail it like timber, it has loadbearing support for double brick construction and has the highest fire rating that a masonry product can achieve. It's very desirable to consider this Sandstone brick as the brick of choice for next time you are home building.
Being half the weight of clay or concrete, bricklayers can easily lay this sandstone brick with one hand yet they are laying three brick sizes in one, the dimensions being exactly one and a half times the length and two times the height of a standard clay brick also means it will take a third of the time and third of the mortar which means a third of the cost of labour to install.
Overall if you like a Sandstone look or even if you want to render, this Timbercrete, Hunter Series brick is the best eco responsible solution to replace the environment burning clay brick for your next home building.