Designers Find Value in Design Guides from TIMBECK architectural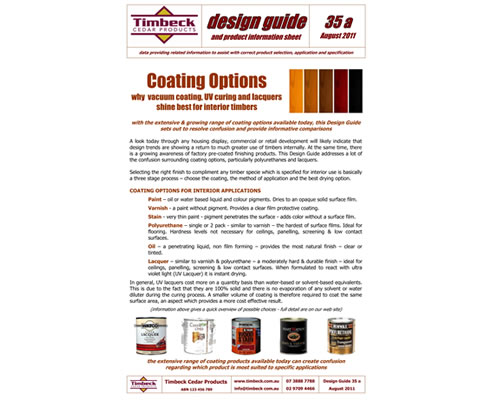 The recently added section of TIMBECK architectural' Web Site housing a new series of Design Guides has provided specifiers and builders with a valuable new source of product related information. Looking beyond specific product properties, the Guides focus on more general aspects of timber and are aimed at assisting decision makers achieve optimum performance from the timber of their choice.
The most recently released Guide, "Coating Comparisons" looks at the present day array of coating materials (paints, stains, lacquers etc), the various methods by which they can be applied, and addresses recommendations aimed at maximising product performance and cost effectiveness.
The new Design Guide is available in PDF format at - www.timbeck.com.au
07 3888 7788 - 02 9709 4466
PO Box 1127, Burpengary, QLD, 4505