Metal Access Hatches Melbourne from Atlite Skylights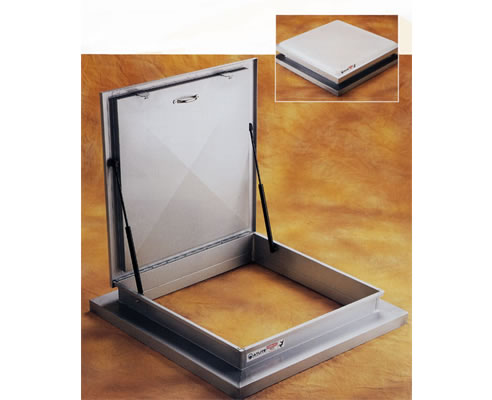 Atlite Skylights is one of the most recognised skylight manufacturers in Australia. As we also install our products, we are appalled by the condition of some of the metal roofs we inspect and the degree of difficulty we have getting onto many of these roofs. Metal roofs all over the country are deteriorating because of lack of periodical inspections.
Installation of an access hatch makes it easy for the householder or maintenance officer to make these inspections.
Allows easy access on commercial buildings for the servicing of plant & equipment.
All-Metal Hatchway has an insulated all metal top.
Ga strut assisted opening for operating safety.
Fitted with toggle clips to lock from the inside.
Available in colorbond, zincalume or galvanised finishes.
The All-Metal Hatchway is available in five basic sizes which depict actual throat opening size. The lid is packed with insulation and hinged the full width of the unit. The gas-operated struts ensure safe operation when opening and the lid locks from the inside.