Pre-Coated Timber Services Available from Timbeck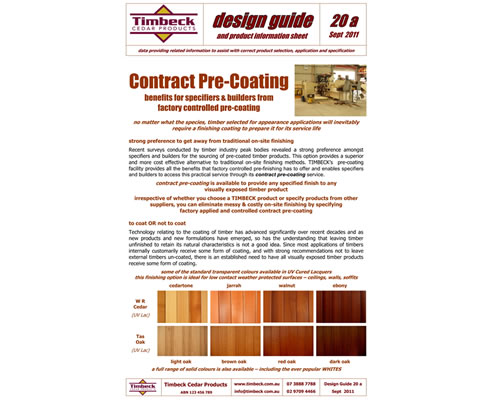 Specifiers & Builders derive huge benefits from pre-coated timber
The pre-coating facility which compliments the manufacturing arm of TIMBECK architectural has recently widened its activity base and now encompasses a contract pre-coating service. This significantly widens the availability of the many benefits of pre-finishing and provides specifiers & builders with an avenue to access pre-coating irrespective of the timber product they may have specified.
Ideally suited to all internal & external visually exposed timbers, factory precoating eliminates messy on-site application where the quality of the finished article is invariably compromised due to dust and atmospheric conditions. The TIMBECK contract service also offers a Vacuum & U.V. application option, one of the latest developments in pre-coating technology.
Full details of the TIMBECK Contract Pre-Coating Services have just been released in Design Guide 20 as part of TIMBECK's commitment to improve its information base on non-product specific matters.
Design Guide 20 and other information on finishing options is available in PDF format at - www.timbeck.com.au
07 3888 7788 - 02 9709 4466
PO Box 1127, Burpengary, QLD, 4505