Timber Properties and Western Red Cedar Design Guide by Timbeck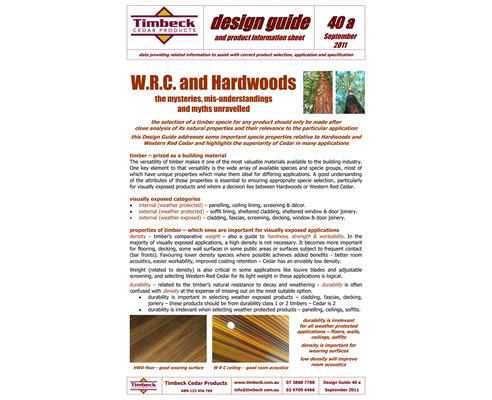 some important insight into the significance of timber properties
The most recently released Design Guide to be added to TIMBECK architectural source of product related information has a close look at the most relevant properties of Western Red Cedar and Hardwoods. It deals with some common misunderstandings related to the properties of both groups and the way misinterpretations can sometimes guide a decision a particular way, often compromising the original objective.
Western Red Cedar and Hardwoods are at the top of many specification options and each has much to offer. However, a true understanding of the relevance of performance characteristics is vital.
Design Guide 40 follows the established trend of this new series and focuses on the more general aspects of timber to assist decision makers achieve optimum performance from the timber of their choice.
The new Design Guide is available in PDF format at - www.timbeck.com.au
07 3888 7788 - 02 9709 4466
PO Box 1127, Burpengary, QLD, 4505