EPOTEC Residential Pool Restoration with Hitchins Technologies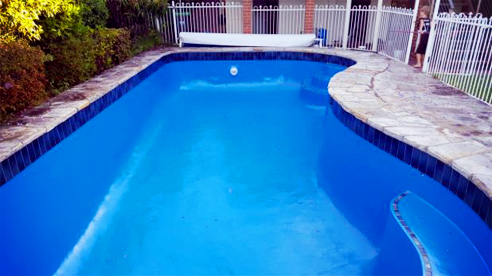 Fit for a Castle: Royal Blue (Pacific) EPOTEC for pool restoration in Castlecrag.
The DIY owners of this aged marblesheen pool in Castlecrag, Sydney, decided it was time to overcome the stains, the rough surface, and the high chemical costs trying to keep it clean. They resurfaced it with EPOTEC. After a thorough detergent wash all areas were checked for eroded or drummy marblesheen then repaired. The surface then received an acid wash and when dry a coat of EPOTEC WB sealer to seal the porous surface. Thereafter, two coats of EPOTEC in Royal Blue was applied and now it looks fit for a castle!
EPOTEC, the proven Hi Build Epoxy Pool (and Spa) Coating is available for your pool. Be it Fibreglass, Marblesheen, Pebblecrete or Concrete. EPOTEC will give it a new lease of life. A life that's long lasting, economic and attractive. We work with you, DIY, with your painter or an Approved Applicator for a great finish, every time. Warranty available. See our website for helpful information and more images of EPOTEC in action at www.poolpaint.com.au.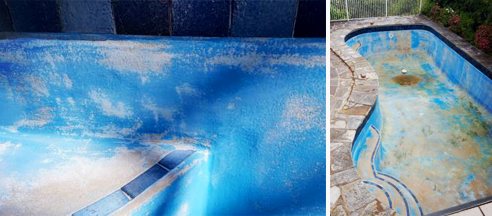 Before EPOTEC Restoration