Airborne Containment Solutions for PC3 & PC4 Laboratories from Camfil Airepure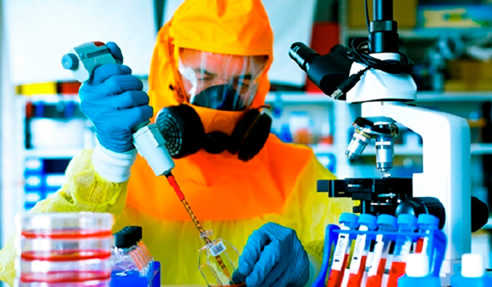 Physical containment (PC) laboratories are purpose-designed, strictly controlled, and highly secured facilities that are constructed specifically for handling, testing and the containment of microorganisms. As Australia's leading national air filtration technology and solutions provider, Camfil Airepure offers a range of cost-effective and innovative containment solutions.
What is a Physical Containment Facility?
A containment facility is a negatively pressurised room or building where contaminants are controlled or exhausted. Biological and microbiological facilities usually require physical containment laboratories.
Why Have Physical Containment Facilities?
The establishment of containment facilities are built for the purpose of allowing microbiological work in a safe environment, following a two-prong practical objective: 1. To protect the laboratory worker from accidental exposure 2. To protect the environment from the accidental release of hazardous agents
What is Typically in a Physical Containment Facility?
Physical containment facilities and biological levels are established as a required precaution to separate dangerous biological or microbiological agents.
The following are typical substances or compounds that are confined in a containment facility:
1. Biological Substances
a. Viruses like AIDS, Ebola, Hantavirus, H1N1, etc.
b. Bacteria like Mycobacterium tuberculosis (TB), Bacillus anthracis (Anthrax), Klebsiella, etc.