Pebblecrete Pool Rejuvenation with EPOTEC from Hitchins Technologies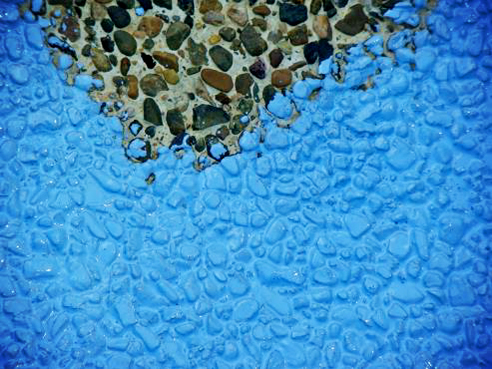 There are a significant number of pebblecrete pools in Australia. They age quite well but overtime can be subject to a range of issues. The pool will have a concrete shell (with steel reinforcement) with a Pebblecrete (10-30 mm thick) finish on top. Pebblecrete is generally composed of pebbles and cement. It's trowelled on and then either water blasted or acid etched to expose much of the pebbles. Over the years and depending on the quality of installation, pool water chemical balance and general wear and tear, it will slowly degrade.
Usually pebblecrete pools end up with random cracks, worn areas, black staining and maybe rust staining too. Some areas may be drummy (hollow underneath) or break away completely. There may be white calcium build ups as well. Often pool owners complain about how sharp the pebbles are and that they cut children's feet. This can be overcome with coating using a hi build epoxy such as EPOTEC. Additionally, older pools often have loose pebbles getting stuck in filters, which may jamb filter pumps.


Before and After