Wood Floor Solutions overlay timber flooring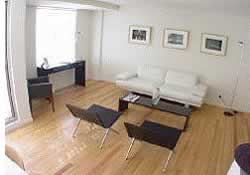 A modern twist on the classic Tongue & Groove. Timber Flooring Overlay is REAL wood, in fact it is essentially traditional Tongue and Groove Timber Flooring, only thinner (12mm instead of 19mm). Because it is packed in lengths of 2.4 metres in carry-in bundles of 10 boards it means it's perfect for apartment and high rise living where it is difficult to deliver material via a lift. This product is ideal anywhere a sub-floor is already present and you still want solid timber floors.
Creams Blackbutt, Mixed Whites, Tallowwood.
Browns Brush Box, Ironbark, Spotted Gum, Turpentine.
Reds Blue Gum, Mixed Reds, Rose Gum.
Length Random from 0.5 to 2.3.
Finished Size Overlay 80 mm x 12 mm.