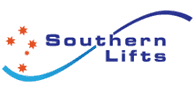 Company Profile
Southern Lifts is a lift company that aims to provide quality products, sourced locally and internationally, that serve their customers' needs at an affordable price. In the early years much time and money was devoted to research and evaluating products to ensure reliability of equipment and suppliers. Southern Lifts now has a range of products, which covers residential lifts, disabled access lifts and commercial lifts with capacity from 2 to 40 people, which are second to none in quality and design flexibility.

Colin Stannard, one of the company's original founders has worked in the lift industry for many years. He observed the changes in attitude towards lift companies and recognised that it was a rapidly growing sector so established Southern Lifts in 2002.

In early 2005 Andy Watkins joined Colin as an equal partner. Andy ran his own elevator company in the UK for 13 years, and brings not only additional experience and know-how, vision and perspective based on his observations of industry growth and breakthroughs in the UK and Europe.

Southern Lifts is now one of Australia's premier lift companies and operates from Braeside in Victoria.

Southern Lifts
03 9580 5800
2/226 Governor Rd, Braeside, Vic, 3195
* If you would like to update the text on your profile page, please contact Spec-Net.