New Kooltherm K10 GM G2 Soffit Insulation Board from Kingspan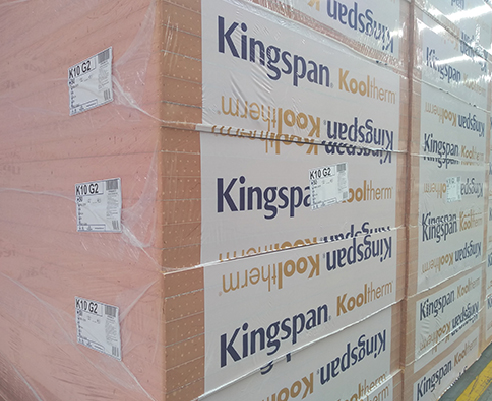 Kingspan Insulation discontinues its bestselling product
Kingspan Insulation is gearing up to replace thousands of square metres of their best-selling Kooltherm K10 FM Soffit Board rigid insulation before May 2019.
Changes in the National Construction Code (NCC), originally flagged in the 2016 NCC update are set to be enforced as of May 1st 2019.
All stock of the company's bestselling Kooltherm K10 FM Soffit Board will no longer be compliant to the NCC after the cut-off date and will be discontinued as a result.
The standard introduced in 2016, AS 5637, requires foil faced internal lining materials to be installed on both walls and ceiling when undertaking the full-scale room fire test ISO 9705.
The ISO 9705 full-scale fire test previously required products only to be installed in their intended application (whether it be walls or ceiling), but will now require a product to be lined on both walls and ceiling, regardless of their application.
The changes haven't fazed the insulation giant, who has taken the amendment in its stride and released a new product to the market which is compliant to AS 5637 and holds a Group 2 fire rating.
"Kingspan Insulation has been preparing for this transition for some time. We are confident in our ability to supply a product that will not only adhere to the new NCC standard but will also provide the same great thermal performance that our customers have come to expect from us," commented Kingspan Insulation's Sales Director, Craig Burr.
Kingspan Insulation's new foil faced rigid board insulation named Kooltherm K10 FM G2 Soffit Board features a thicker foil lining and has already undergone the rigorous ISO 9705 test, achieving a Group 2 rating.
"We have been supplying our Kooltherm K10 FM G2 Soffit Board to the New Zealand market for a few years now and are confident in transitioning the product into Australia. The product is CodeMark-certified for NCC compliance and is ready to be introduced to the market," continued Burr.
A Group 2 fire rating means the product is suitable in most applications excluding fire isolated exits, fire control rooms, sprinklered public corridors in either Class 3 buildings or in Class 9b buildings (other than schools).
Kingspan Insulation has their bases covered, however, offering their bonded K10 Plus Soffit Board for such applications to complete their suite of rigid soffit insulation.
"Our Kooltherm range covers a wide range of applications and can be used for a number of solutions. The Kooltherm K10 FM G2 soffit suite is just a small part of what Kingspan insulation has to offer," concluded Burr.
Head over www.kingspan.com for further details.